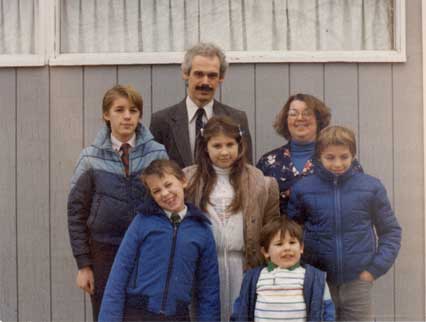 Dear Family and Friends,
In the spring we gave in to the need for an updated computer and purchased an Apple IIgs which is in constant use. In June Pattie started working part-time at Dartmouth College switchboard and decided to take advantage of the discounted price on Macintosh computers. This fall Bob taught two AppleWorks classes after school and one Macintosh class all to adults in the community. The Mac class was at our home which made a big difference in morale around home. It was not easy for Bob to teach at home as the children and most notably Robbie wanted to get in on the act. Robbie has become a master computer whiz. He uses a program called Kidstime which fills his needs admirably. His favorite part is not the matching, not the writing, not the number work—it is the music program where he can listen to already written music or compose his own. He has a number of "songs" that he has written.
The summer was very busy with Bob attending a computer conference and later a physics conference. The whole family enjoyed morning swimming lessons at a local stream. Swimming abilities improved greatly with increased confidence on all levels. Janus, Christopher, and Bob went to Scout camp with Janus remaining for the extra Eagle week. They both came away with merit badges. With more work through the fall they advanced in rank so that Christopher is a First Class Scout and Janus achieved Life rank. In the spring Janus was elected to the Order of the Arrow and went through his Ordeal in June. He found it hard but enjoyable. Megan continues in Girl Scouts as well as studies flute and has just been invited to join the small band that the elementary school has. Jonathan is very happy to be in Cub Scouts and has nearly complete h1s Wolf requirements. Pattie is den mother for Jonathan and one other boy. With only two cubs the work goes very quickly.
We were not able to do as much hiking as we had hoped due to the variety of summer activities. Last Christmas vacation Bob, Janus, and Chris climbed Smarts Mountain in the snow! It was the first real winter hiking we have done. We hope to do another winter hike this vacation. Bob, Janus, and Chris did an overnight backpacking trip through the Carter range and another hike in the Hancock range which brought our total to 32 out of the 48 four thousand foot or higher White Mountains.
Robbie is a story all by himself. He feels that all things are for his benefit and that he should have access to all activities of the family. And he pretty much does. He hears someone mention that wood needs to be brought in and there he is with his jacket in hand. He would like to go to school each day but no longer begs because he has gotten negative answers for so long. At every opportunity he goes to the Academy and is somewhat of a school mascot. In February Bob and Janus went to Washington, DC with some of Bob's seniors who did not go to Europe. While he was gone Pattie covered his remaining classes. During that time Robbie put some of his learning to use and started writing letters on the blackboard. He got a round of applause for his efforts from the geometry class which was taking a test. After a few minutes of tears from fright he went back at it and has done remarkably well ever since. When the rest of the children do homework in the evening he hauls out his alphabet work and does a few letters or pages as the spirit moves him.
Pattie is now serving in the church Relief Society presidency and Bob is teaching the teenage class. Jonathan was baptized in the spring, and Chris was ordained a Deacon in the fall.
Well, that's all folks. Have a happy and healthy new year.
With love from all the Crossetts.