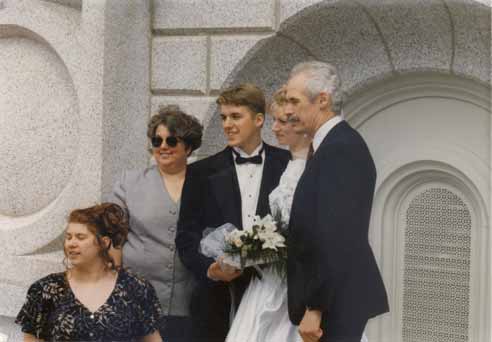 It is amazing but another year has flown by! We come to this season of the year with gratitude in our hearts for the blessings we have received and for the wonderful relationships that we enjoy. Our best wishes to you all for a wonderful new year.
For news: The biggest news of the year was that Janus was married in the Salt Lake City, Utah temple on April 27 to Laura Oliphant of Salt Lake City. Bob and Pattie flew out to participate in the wedding and thoroughly enjoyed meeting Laura's family, and immediately fell in love with them. Our biggest fear as parents was concern for the spouses of our children and their families. The Oliphants are the loveliest possible people and we felt immediately at home. Nothing could make us happier. Janus and Laura finished their Associate's degrees, he at Ricks College and she at Weber State University, then they moved from Ogden, Utah to Salt Lake City. Janus has been working two jobs this fall and will start his junior year at the University of Utah in January. He and Laura are expecting their first child in February.
Christopher continues to serve his mission in the Brazil Campinas Mission. He spent about seven months as the mission financial secretary which gave him a different kind of service, which he found challenging but enjoyable. While there he had an email address so we were able to send him letters at the drop of a hat, or rather, the click of a mouse! He has now gone back out "into the field" so we still send him email but he writes us back on hard copy. He will be home the end of June 1997, which we are awaiting with joyful anticipation.
Megan finished her freshman year at Ricks College and returned home for the summer to work at Subway and also at C & A's Pizza. Bob had flown back to Vermont from the wedding and Megan and Pattie drove the conversion van back home after the wedding. Megan had been one of the maids of honor and really enjoyed that. After a long hard summer working two jobs, Megan went back to Ricks and has worked hard the last part of the semester to recoup from earlier faulty priorities.
Jonathan has had a busy year, working the summer at the Joseph Smith Birthplace Memorial, and in the fall he decided not to run cross country but to concentrate on his guitar work. He is part of a band called "Joe Twist". For the annual Christmas concert he played and sang solo "Jingle Bell Rock" and did a great job. Jonathan, Robbie and Bob participated in the spring performance of Joseph and the Technicolor Dream Coat. Jonathan and Bob were on stage while Robbie was stage crew.
Robbie played soccer during the fall sports season with the encouragement of his brother Christopher from Brazil! He has also been singing tenor in the school chorus and did a fine job at the concert. He also enjoyed boy scout camp at Camp Hinds in Maine and earned several merit badges. Early December brought a Court of Honor where he was awarded his Tenderfoot, Second Class and First Class scout badges.
Pattie has had a difficult year with fibromyalgia and was put on disability leave from Dartmouth College as of June 1 and still is out. She feels better than she did in the early spring but has some very bad days amongst the good days.
Bob spent the summer working hundreds of hours getting many new computers networked and set up at Thetford Academy. It was long and hard but enjoyable. The early fall brought many more hours working on the computers to undo the damage that students did each day. That was fairly discouraging.
Bob and Pattie were called to be Restricted Ordinance Workers (ROWs) at the Washington DC Temple in preparation for the time when Boston Temple will need local ordinance workers to serve there. It has been a wonderful blessing to be able to do more in the form of temple service.
Our Best Wishes for a Peaceful Holiday Season and New Year.
Bob, Pattie, Janus, Chris, Megan, Jonathan, Robbie