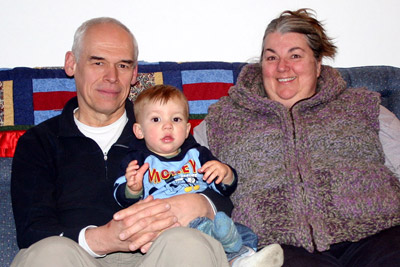 The past year has been full of surprises, activities, and adventures – as usual!
Bob and Pattie finished up their Temple Support mission at the end of July. It was sad to stop after having such a wonderful year serving one week each month at the Boston Massachusetts Temple. Part of the reason for not continuing for another year was that I accepted a job working for the Church in Facilities Management – which meant going around to the 10 chapels in Vermont and doing repair work as needed. After three months, the long day and long hours of driving got to be too much for this 59-year-old man, and I resigned. This was a job for a 30 year old! So, Bob is back in the retired mode – hiking, helping our son, Jon, develop a web site, etc. In November, the Lebanon Ward was divided into the Hanover Ward and the Lebanon Ward. The new wards are about 160 in attendance on Sunday. Bob was called into the Bishopric of the Hanover Ward and Pattie continues to serve as a Family History Consultant. Pattie puts all her effort into knitting and genealogy research.
In a surprise move, Janus, Laura and family moved from Pennsylvania to Utah in early March. Janus found a new job working as a facilities manager for Nutraceutical Corp. He gave up his job working for the Church as a facilities manager to take this new position. This allowed Laura to be closer to her family, but lots further from our family. Shortly after arriving in Utah, Laura found that she was pregnant with their third child. Lauren Estelle Crossett was born on November 3rd – the same day as Laura's birthday and two or three weeks early. Pattie spent three weeks in Utah in May helping Janus and Laura get settled, then went back to Utah at the end of November to help out with the new arrival.
Megan flew back from Utah with Pattie in mid-May to begin her own adventure. Megan has had a goal of hiking the Long Trail in Vermont and Bob and she decided to do it between the weeks we worked at the Temple. So, on May 20th, Bob and Megan left from North Adams, Massachusetts to begin a 270-mile trek in the Green Mountains. Megan was limited in the amount of training she could do due to her work schedule. She managed to reach the 50-mile mark before realizing that it was too much for her. Bob continued hiking, but was disappointed by the amount of rain that filled his week. Bob reached the base of Camel's Hump, (200 miles) before deciding that it was not as much fun hiking in the rain for several days in a row. Megan and Bob hope to try again in 2007. Even though they were not able to complete the trek, it was a satisfying experience for all.
Jonathan and Alissa are still living in South Royalton, Vermont. Jon is working at Dartmouth College as a database administrator and hopes that his position becomes permanent. Alissa is busy caring for Eldon who becomes busier with each passing day. Alissa is pregnant with their second child with a due date in early February 2007. The child was diagnosed with spina bifida which is caused by a deformation of the spine. Jonathan and Alissa know this will be challenging, and are looking forward to their new arrival.
Christopher is still working in the accounting field – currently, a bowling ball manufacturer in Brigham City, Utah. He still lives in Roy, Utah and is still looking for the right girl to marry. Christopher came east in July to work on cleaning out the barn at the Riverbow homestead on Route 110. Also, final preparations were made for the sale of the Riverbow house to Christopher and his cousin Jeremiah Curtis. They wanted to keep the house in the family and saw it as an investment property.
Rob continues to work at Dartmouth College in the computer machine room. In August, he moved to Norwich, Vermont to share a house with two other guys, rather than living at home.
Happy holidays to all, Bob & Pattie Crossett Picture included: Bob, Eldon, and Pattie earlier this year