One day I found a free booklet of kids activities and thought of our grandchildren. I also thought of the seminary students.  Some of the ingredients were not something I had handy such as hemp and goji berries. Recipes are just suggestions, is my view, so I made some substitutions.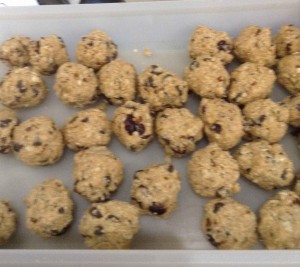 Tonight I made these treats with the ingredients available.  This is what I did:
2 cups rolled oats
2 cups unsweetened coconut
1 cup creamy peanut butter
2/3 cup honey
1 cup semi-sweet chocolate chips
1 cup finely chopped pecans
1/2 cup dried cranberries
In a large bowl measure out all the ingredients except peanut butter and honey.  With very clean hands mix everything until it makes a nice rather even melange.  Add in the honey and peanut butter and stir with a wooden spoon until you can't stand it anymore then reach in and knead everything together with remarkably clean hands until there are no dry bits at all.  When all the dry ingredients are moistened pick up a handful of the dough and squeeze it into a golf-ball-sized ball of tastiness and place in a flat plastic covered container in the refrigerator until you want to eat them.
We had at least one satisfied customer: